Workshops and Talks - Term 2 2021-22
I Can & I Am Bus
For over a week in November, the 'I Can & I Am' wellbeing bus arrived at College. Every Year 9 student spent an hour on the bus with the team of I Can & I Am, where they enjoyed making pizzas and took part in a group wellbeing/motivation session. Further information about the charity can be found via: www.icanandiam.com/the-bus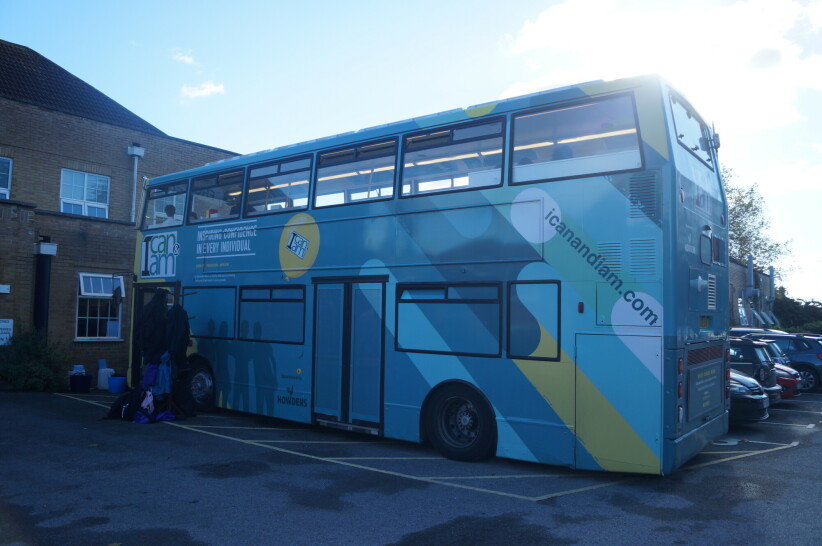 Positively You workshop
During a workshop run by Positively You, students were introduced to fun techniques that they could use to revise, without having to rely on looking at textbooks. Methods included answering quick fire questions about animals and using mnemonics to remember words and phrases. For more information about this energetic workshop, please visit positivelyyou.org.uk
Religion and Philosophy talk by Stephen Law
On Thursday 25th November Frome College welcomed philosopher and author Stephen Law to host a series of talks to our Year 11 and Year 13 students.
Approximately 80 Year 11 students were invited to develop their critical and analytical thinking through a variety of
thought experiments and case studies such as the Face on Mars, whilst Year 13 students reviewed and expanded their knowledge on key topics for their upcoming summer exams such as Miracles, Religious Language and Free Will.
Stephen commented on the intelligent questions and engagement of the students that impressed him. Miss Lowes and Miss Duncan would also like to thank all those who contributed to the discussion and those who took the time to think more deeply about the ideas discussed during and after the session.
Safer Somerset workshop
In November, a media workshop organised by Safer Somerset Partnership, and delivered by their partners Collaborate Digital Ltd, was held in our Drama studio.
This interactive workshop focused on how to stay safe in modern day Somerset. A select group of students spent half a day producing public service announcements that will help spread the word about themes such as violence reduction, healthy relationships, weapon possession, criminal exploitation, and substance abuse. The target audience is other students, which helped the workshop participants to convey their message in a way that is relatable to their peers.
After mindmapping ideas about these important topics, each student team presented their message in whatever medium they chose and were encouraged to utilise their talents, whether that be in the form of podcasts and songs, or videos and animations.
Each piece required a call to action such as directing audiences to a website for further information about their topic. In early 2022 the judges will post the best work from each participating school online and put them up for public vote. The judging panel is made up of young people, the police and those working in child protection, which offers a wide range of perspectives.