Take Part in the Last Sapling Dreaming Art Project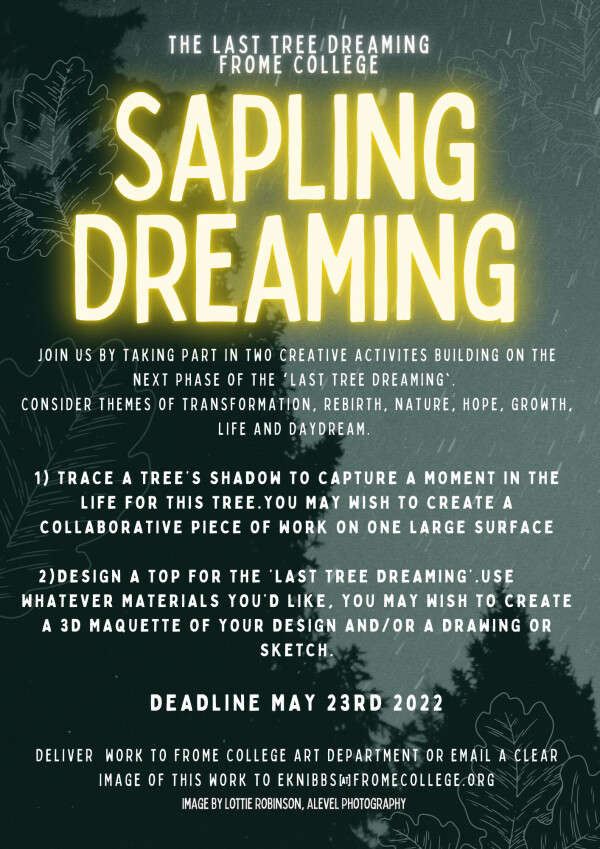 There is this exciting new community art project based around the legacy of the Last Tree Dreaming's 'rebirth' phase. The project, entitled 'Last Sapling Dreaming', links to many themes including transformation, nature, hope, growth, regeneration, dreams, aspiration, and hopes for a bright and happy future.
Frome College Art Department would love as many students, classes and families in Frome/surrounding villages to be involved as possible, to make the transformation of the 'Last Tree Dreaming' a really memorable and special project that will hopefully bring the community together. The aim is to create a sculpture that will last generations, and an exhibition of work made by students across various schools in Frome. The exhibition will take place in the Frome College Art Department in July as part of an evening of celebrations.
You can get involved by:
Shadow tracing significant trees
Designing the sculpture for the top of the Last Tree Dreaming
Physical work created for this project should be delivered to Frome College, each featuring the student's name and age, and participating school details. Work can also be sent digitally to Miss Knibbs, Head of Art at Frome College, via eknibbs@fromecollege.org.
The deadline for this work will be 23rd May.
We hope to collectively produce some beautiful work with a lasting legacy for our community.