Intermediate Mathematical Challenge 2022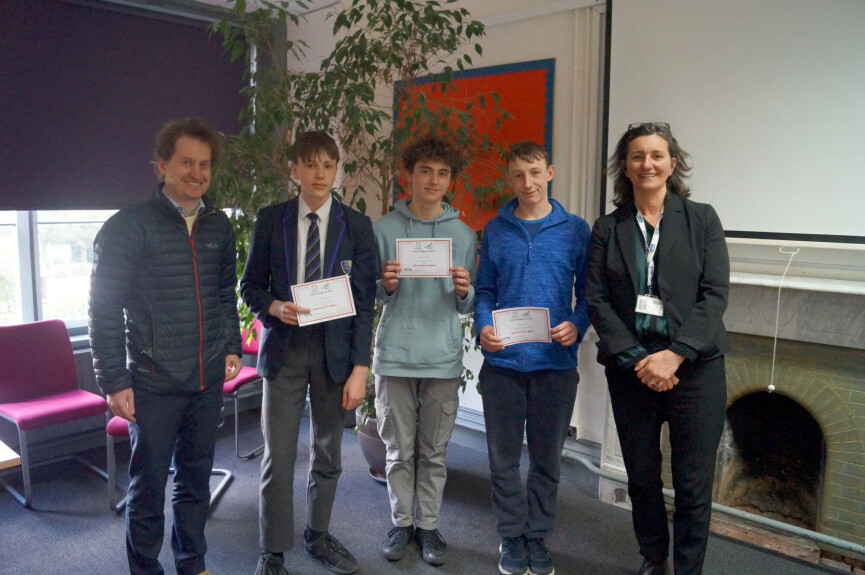 Gareth Everton, Sam Rottenbury and John Verwey all got Gold in round one of the UKMT Intermediate Maths Challenge in February, qualifying for the Kangaroo round!
This puts them in the top 8% of all participants - an amazing achievement!
To achieve this certificate of merit they needed to be in the top 25% of entries for this second round. The boys will also take part in the Senior Maths Challenge next year. Best of luck to them!
Intermediate Mathematical Challenge
On 3 February, 190 of our top mathematicians from Years 9, 10 and 11 took part in the Intermediate Mathematical Challenge, a national maths competition designed to encourage mathematical reasoning, precision of thought, and fluency in using mathematical techniques to solve interesting problems. I am pleased to announce a large number of the students achieved a Bronze, Silver, or Gold certificate, reserved for the top 50% of all entries. Ten students from across the years qualified for the second round, of which they took part on 17th March.

The results are in for round two the Kangaroo challenge: three of the students earned a certificate of Merit, which puts them in the top 25% of the competition!

YEAR 9
Bronze
Violet Ascott, Ewan Cox, Chloe Farr, Harvey Gale, Oliver Hansom, Eva Hill, Joshua Honnor, Ivy-Ellen Johnston, Prisca Le-Cowley, Oliver Griffin, Erin Ross-Osborne, Samuel Sandy, Kieran Stacey, Beau Street, Tara Whitelaw
Silver
Alastair Everton (Best in Year 9), Emily Gardener, Wilf Hewitt-Grainger, Harvey Scammell
YEAR 10
Bronze
Ethan Atkins, Titus Beaven, Joshua Blackmore, Fiona Broeker, Tilda Conway, Dominic Evans, Toby Evans, Hannah Farrant, Addy Franklin-Turner, Coby Franklin-Turner, Cecily Hudson, Caspar Mason-Davies, Amaya Murguialday, Leala Neale, Jamie O'Connor, Jonah Payne, Mackenzie Pearce, Arthur Rogers, Thomas Roughley, Lily Waterman, Nataniel Wiacek
Silver
Harvey Booth, Neve Brautigam, Treya Creffield, Rosabella Dimaria, Tamlin Head, Tobi Robinson, Noah Wood, Harry Woolford
Gold
John Verwey (Best in Year 10)
YEAR 11
Bronze
Elianne Cann, Jacob Dobson, Jasmine McAlpine, Daniel Rhodes, Matthew Willis
Silver
Ruby Davis, Tam Fox-Scott, Nicolaas Galbreath, Jess McAlpine, Kenny Street, Oliver Wagstaff, Lilith Whitelaw, Daisy Whitmarsh, Oscar Wilson, Samuel Harper-Young
Gold
Gareth Everton (Best in School), Ronnie Downes, Tom Kelly, Sam Rottenbury, Thomas Waterman