Holocaust Memorial Day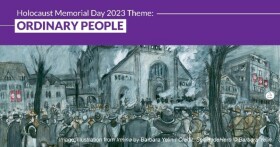 Last month we commemorated Holocaust Memorial Day with assemblies for all year groups. The assembly included historical context, a poem about Auschwitz read by Olivia Coleman and the testimony of various survivors. The focus point was the gradual nature of Jewish oppression in Nazi Germany; genocide was not always the intention. The final solution became policy only after many years of steadily more restrictive laws designed to isolate the Jewish people. 
Genocide since the Holocaust was also discussed, including events in Cambodia, Rwanda, Bosnia and South Sudan. Students were invited to join in a moment of silent reflection to remember those involved in the atrocities and all did so respectfully.
40 students from TAG and R&P went to a Holocaust Remembrance conference at Exeter University. The students attended a series of talks on genocide and colonialism, the power of language and heard from the daughter of a Holocaust survivor working with the grandson of an SS officer. The theme for this Holocaust Memorial Day is ordinary people prompting us to consider how we can all play a role in challenging prejudice.