Governor Profiles
Chair of Governors
Max Wide
I am Chair of Governors and have been for over four years. Both my sons came through the Frome system and I was previously Chair of St. Johns primary. I am hugely committed to improving the Frome education system as a whole and I believe that we have a special responsibility to the people of this town, especially since we are the only choice within Frome for the later stages of education. I became a Governor to make sure that the views and experiences of our parents and students feed in to the improvements we try to make, and because I want to use my skills and experience in organisational change to make things better for everyone. 
Equal Opportunities and Destinations Committee
Beverley Bates
My name is Beverley Bates and I'm a parent governor. I have one child currently in college and another left 6th form last year. I work in social policy research, with a special interest in health and diet inequalities. I became a parent-governor as I wanted to use my skills and interests to help make a real difference to the lives and outcomes of young people, especially those from challenging backgrounds.
Ken Macleay
I am a co-opted Governor and am the designated Safeguarding Governor. I am a General Practitioner with a particular interest in mental health. I have 3 children in the Frome school system, my 2 eldest sons are currently at Frome College. As a former pupil of Frome College (whom I credit with helping me achieve my early ambitions) I am keen to 'give something back', as well as invest in my children's and community's local school.
Catriona Williams
I have lived in Frome since 1995 and all 4 of my children went to school here. I wanted to become a Governor because I value local schooling for everyone in the community. I had more free time and wanted to be part of changes in the college, helping to build a school that reflects the ethos of our town, giving education, support and opportunities to every child regardless of their background.
Business Committee
Richard Brooks
I work in Human Resources and have experience of managing public sector organisations. When the College was seeking Governors, I thought that my experience might be helpful on the business side, with issues such as finance, HR, IT and Health and Safety. I have enjoyed learning about how the College works and learned a lot from the staff and students about running a really successful College. It's great to have a small part in this success."
Chris Sanders
Education is vital to enable young people to gain lifelong skills and academic knowledge. All deserve the opportunity to flourish. Consistently achieving excellent outcomes for our young people demands everybody involved, communities and organisations working together effectively. I offer over 30 years of industrial/international collaborative project experience. Also, I have been a governor for more than 10 years at different secondary schools. I am passionate to get education right for our young people. 
Chair of The Quality of Education Committee and 6th Form Link Governor / Co-opted Governor
Gayle Willmott
I have over 16 years' experience of teaching, training and management within post 16 further education. Since leaving the education sector to pursue a different career, I decided to become a governor to maintain my connection with education. As a college parent, I wanted to give back to the community and felt that my expertise would be a useful additional to the governance team. Being a governor has proved to be extremely rewarding and I enjoy being part of a strategic team, which is having an impact on young people's lives.
Staff Governor / Quality of Education Committee
Lorraine Lateu
(September 2018 - present)
I have worked at Frome College since 1998 and teach French, German and History (and have taught English in the past). I studied French at the University of Sussex which included living in France (in Dole, in the Jura) for an academic year. I was the English language assistant in two French secondary schools and it was that experience that made me want to become a teacher. After completing my degree and my PGCE I worked for 3 years at a school in Sussex before moving to the West Country.
Teaching and Learning Committee
Alice McColl
I'm Alice and I live in Frome with my husband and 2 boys aged 18 and 14, the youngest of which is still at Frome College. I work full-time for a charity on children and young peoples' rights. I'm passionate about equal access to great learning and enjoyable opportunities which build confidence and motivation. Academic or not, I believe school should make all our young people feel welcome and valued. I also volunteer for The Pod youth club in Frome for disabled young people.
Governor
Emma Reynolds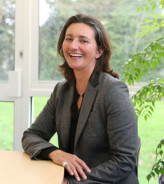 As Principal of Frome College, I also hold the position of Governor and enjoy the challenge and support offered by the Governing team. 
As an English teacher of nearly 30 years experience, I have served as a senior leader for the past 17 years, 9 of which as Headteacher. I love my work and feel privileged to serve the Frome Community.